Increasingly Australian consumers have a moral compass when it comes to purchasing goods or services, according to Jake Hird, consulting lead at SapientNitro Australia.
Typically, ethical goods and services are loosely categorised as organic, fair-trade, sustainable or cruelty-free. At an even broader level, these fall under a simplistic framework of being environmentally friendly in nature.
"So the ethical consumer relates to the intersection of individual social and environmental morals against the ability of a business to deliver against this," said Hird.
---
See our exclusive ranking of the top 100 Australian brands
---
There are some supporting statistics highlighted by James Wright, managing director of Red Agency Australia and Havas PR Asia-Pacific. He pointed to a report called BeCAUSE It Matters released in 2014 that analysed consumers' thoughts and habits related to issues of conscience and how the trend of 'goodwill purchasing' is growing.
Among the top findings in Australia:
Over half of Australians who know of a brand's poor ethical reputation have been influenced not to buy the brand (57 percent) and have been willing to pay more for brands with better ethics (54 percent)
21 percent, or 1 in 5, people often or always favour one brand over another based on its ethical behaviour
40 percent of people have recommended responsible brands to other people
Wright sees this trend continuing, though the rise in Australia is actually part of a much bigger global movement.
"Being good is the new being cool," said Adam Ferrier, global chief strategy officer at Cummins & Partners. "People are looking for ways to do better while they consume.
"Ethical consumption is becoming omni-present, and feels like it's been driven by both urban hipsterdom as well as by a continually enlightened society."
Remi Couzelas, planning director at 303MullenLowe Australia went further to assert that what most call 'green thinking' is now "seriously mainstream".
"Eco went from a niche to a standard where we expect to have choices between 'normal' and 'eco' products and services," he said.
Beyond the fact that this is another way for brands to align with consumer values and beliefs, major global events like the COP 21 in Paris and Fukushima disaster in Japan have influenced the public, while most consumers within Australasia still have in mind incidents like the Nanna's mixed-berry recall in 2015 (see below) and Fonterra baby powder scandal in 2013.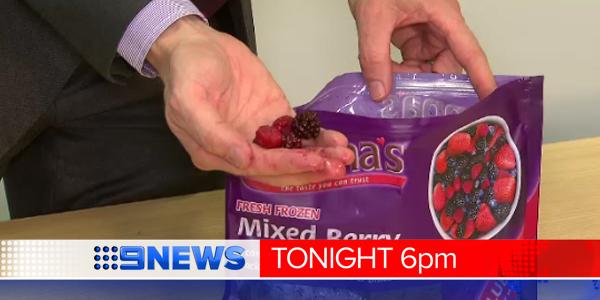 It is important to note that morals are not the standalone factor behind ethical consumption, reminded Hird.
An influx of smaller companies popping up due to easier supply chains; the maintenance of a relatively buoyant global economy; greater education about product origin and environmental impact; the practice of using technology to enhance traceability and transparency of ingredients; the new norm of sourcing from countries that share the same or similar legislations around food and farming are all part of the bigger picture.
Good on you and Thankyou, both founded in Australia, are such exemplar companies gathering consumers who are interested in ethical consumption to come together and live their principles with their wallets.
Goodonyou is a mobile app startup created by a charity called Ethical Consumers Australia that gives ethical ratings for almost 1000 fashion and accessory brands in Australia. Issues considered before a rating is issued are the employment of child labour, hazardous chemicals in packaging, the use of fur and Angora wool in production, and so on.
As for Thankyou, consumers can easily understand and measure the global impact they are making as the bottled-water brand invested in fitting each bottle with a digital ID. That ID allows buyers to track exact details of the project helping the world's needy people that their purchase is funding. As a result, in just eight years, Thankyou has grown its social enterprise to be a significant player in the Australian consumer packaged goods industry, noted Kimberlee Wells, CEO of Whybin TBWA.
From a marketing lens, technology is seen as a core enabler to the above two brands showcasing their ethical credentials. This goes hand-in-hand with the consumer perspective, as Hird affirmed, since social media platforms "provide the dopamatic means for a degree of both narcissism and self-esteem among consumers".
This led to them prioritising ethical consumption as a natural consequence. "Surely there's a sense of self-good when Instagramming a photo of an organic, free-range burger from a small, independent business versus a burger from a global corporate conglomerate," he said.
In addition, social media reactions offers a-focus-group-in-real time, which keeps brands honest about the manner in which they conduct their businesses.
Do protests on social media decrease sales of 'unethical' brands? Well, not really, purported Sharon Behen, strategy director at Isobar Australia.
Consumers are influenced by other things including affordability, availability as well as "their own apathy", she said. In categories largely driven by monetary value, local consumers tend to favour fair-priced 'regular' products over more expensive fair-trade alternatives.
Also, simultaneous distrust in authority (governments, corporations and churches) and other "supposedly ethical leaders" from regular evidence of their misconduct is causing Australians to be cynical about whether any brand is truly ethical after all, lamented Wells.
Case in point: Free range eggs have had significant airtime of late. Choice, Australia's consumer advocacy group, urged consumers to boycott 19 egg brands in March this year following a new national standard to define 'free range' to make it easier for consumers to understand. The reason for the boycott call? "Big producers can flog eggs for higher prices even if the hens haven't stepped foot outside," explained Wells. In the end, Australians did not want to spend time researching what egg brands are free range or not, and even what constitutes 'free range'.
"I think as a nation we have a firm sense of what is deemed acceptable behaviour. But the reality is, there is a divide between thinking and doing. While we might like to think people will vote with their wallets, I'm not sure we are necessarily that righteous when it comes to the 'final three feet' unless there is outright personal benefit to be gained," she elaborated.
This is so, even if Australia is "contrite about our relative prosperity," agreed Behen, making a reference to the country's economic wealth and dependence on its mining sector.
"With most consumers, unless they are fanatical about it, their ethics usually only go so far," added Claire Waddington, head of marketing for Australia and NZ at Isentia. "By which I mean as long as it doesn't make their consumption harder, more costly or more time consuming".
---
See our exclusive ranking of the top 100 Australian brands
---